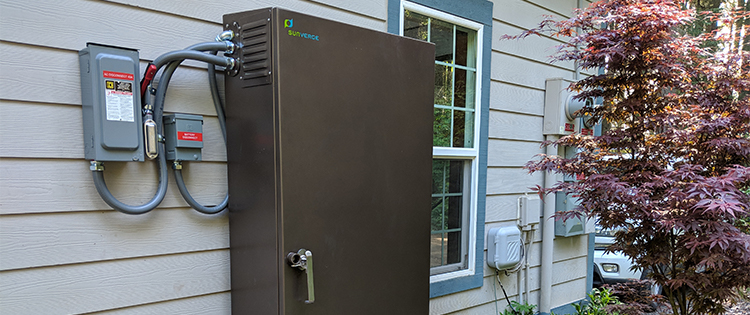 Storing Your Own Power
Batteries can provide temporary back-up power during an outage and store excess electricity from rooftop solar. If you're purchasing your own battery, PSE offers installation guidelines.
I'm a homeowner
Download guidelines for installing a battery only
I want to pair a battery with solar panels
I'm actually just interested in rooftop solar right now
I'm an installer
Download guidelines for installing a battery only 
I'm installing a battery with solar panels
Per PSE's Electric Tariff G, Schedule 80, we also strongly encourage installers and our customers to report their battery installations throughout our service area by filling out and submitting this online notification form. By sharing your information, you'll help PSE properly manage the services that we provide to all customers on our grid, and also help us evaluate further opportunities to support customers' battery storage installations.
PSE is also testing battery storage in a variety of local scenarios to determine the best ways they can potentially enhance the grid and meet our customers' unique energy needs.
Learn more about our battery storage projects
Get answers to common battery storage FAQ
Community Engagement Report
PSE strives to empower historically disenfranchised customers in the clean energy transition by providing the opportunity to co-design the next iteration of our customer programs. We are building procedural equity into our work and creating space for collaboration between customers and utilities to create inclusive, accessible clean energy programs and resources. From September 2022 through May 2023, PSE conducted community engagement on future distributed energy resource (DER) programs, including batteries, solar installations, and demand response (DR) programs. We listened in focus groups, workshops, and surveys to better understand the benefits and barriers customers may face when it comes to DER products to ensure future program design can alleviate these barriers and maximize the desired benefits.
Access our full community engagement report
Access a brief summary of the work, including key lessons learned

Have a question about battery storage or need help with our Customer Connected Solar program?
We're here to help.