What is delivery system planning?
Delivery system planning (DSP) is the engineering function of evaluating how PSE's energy delivery system must operate in order to meet customer needs and identifying solutions to predicted deficiencies under various conditions in order to ensure reliable delivery of energy into the future.
The delivery system planning process can be simplified into 6 planning steps triggered by many different types of needs that the delivery system infrastructure must address. The result is a short-term delivery system investment plan that is optimized to maximize benefit to cost and a long term plan for complex projects, program planning, and development of customer facing offerings.

The delivery system planning process requires many robust capabilities across PSE from the beginning of the process such as gathering customer, load, and distributed energy resources information and forecasts to beyond the planning process end to the testing of results and benefit delivery.

Frequently asked questions
What is the energy delivery system?
The energy delivery system is the network of wires and pipelines, both distribution and transmission, that deliver power and natural gas from where the energy enters PSE's system to a customer meter.
How does the delivery system support resource planning?
Coordinating delivery system planning with resource planning provides benefits, by bringing together solutions to address delivery system challenges while meeting resource needs. A coordinated process must accommodate:
Customer-owned resources and electric vehicles
Programs such as distribution automation and demand response
Distributed energy resources
Energy storage
Energy efficiency strategies
How does Integrated Resource Planning and Delivery System Planning processes interact?
The IRP and DSP processes use some of the same core information just in different ways. Data flows from one process to the other at different steps in the processes.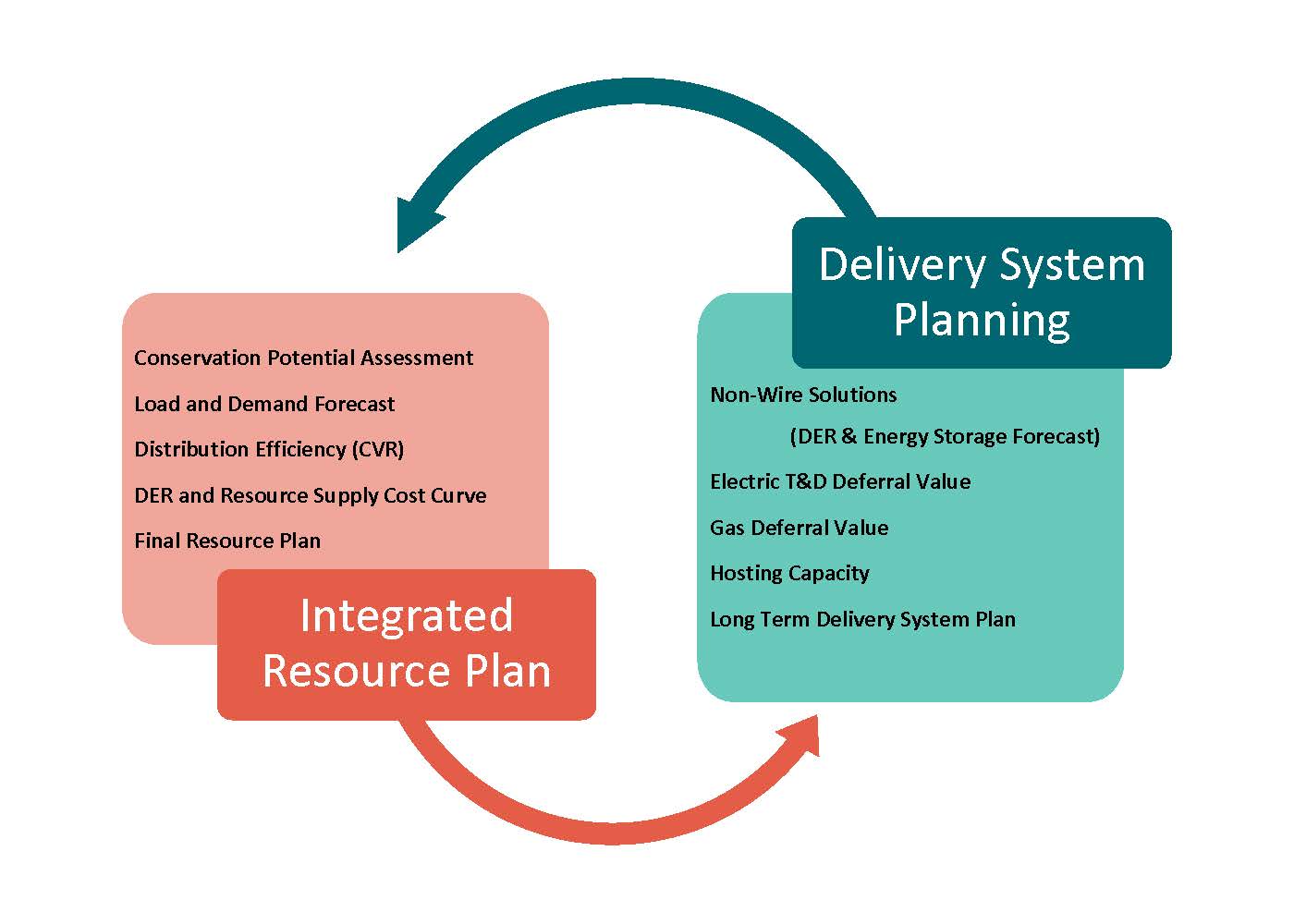 Delivery system planning and the integrated resource plan feed processes provide feedback loops into each other.
Conservation Potential Assessment
Decreases county-level system capacity needs
---
Load and Demand Forecast
Decreases county-level system capacity needs
---
Distribution Efficiency (CVR)
Decreases capacity needs where implementable and may be a solution alternative
---
DER and Resource Supply Cost Curve
Cost supply curve including multiple different types of DER resources which could be used as non-wire solution alternatives if located appropriately
---
Final Resource Plan (including DER's)
Insight for participation in resource acquisition process for DER's to enhance locational value opportunities and informs enabling grid modernization requirements
---
Non-Wire Solutions (DER & Energy Storage Forecast)
Decreases overall resource need by identifying must take DER resources to meet specific transmission and distribution delivery needs
---
Electric T&D Deferral Value
Provides a quantitative value of past T&D investments to use in the conservation potential assessment
---
Gas Deferral Value
Provides a quantitative value of past investments to use in the conservation potential assessment
---
Hosting Capacity (future)
Future input for economic opportunities
---
Long Term System Delivery Plan
Future input for opportunities and constraints that should be considered
---
Learn more about DSP
Current projects and investment plans (coming soon)
Transmissions needs and preliminary solutions
PSE's Grid Modernization efforts
---