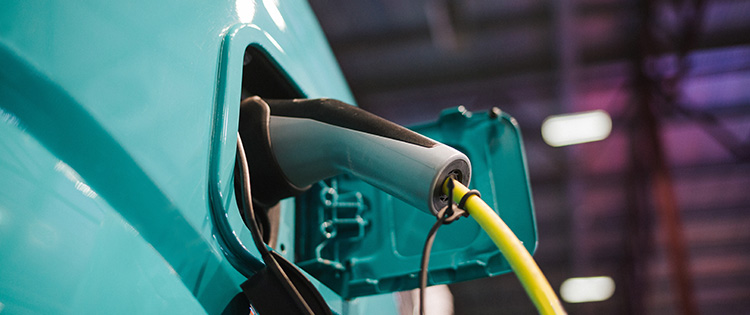 PSE Up & Go Electric for Fleet
PSE Up & Go Electric for Fleet assists public and private fleets in their transition to electric vehicles by offering savings on capital expenses, reducing operation and maintenance costs, and supporting sustainability goals.
Our incentives – up to $250,000 per charging location – can help your municipality, government agency, school district, transit agency, business or organization prepare for the fuel of the future while covering a significant portion of the costs of electric service upgrades, EV charging equipment and installation.
Interested in taking advantage of PSE Up & Go Electric for Fleet? Submit your information and a PSE Fleet Specialist will contact you.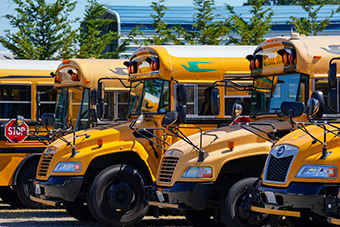 Multiple ownership options
Up & Go Electric for Fleet offers different ownership models for installing electric vehicle supply equipment (EVSE).
With our PSE-owned turnkey service, we'll take care of planning, design, installation and maintenance of EVSE, including covering most utility infrastructure and facility upgrades necessary to complete the installation. This service includes incentives up to $10,000 per Level 2 (L2) charging port and up to $125,000 per DC fast charging (DCFC) port, up to $250,000 total per charging location.
Or, choose the customer-owned option. You'll install, own and maintain all EVSE while taking advantage of PSE incentives up to $4,000 per L2 charging port and $60,000 per DCFC port, up to $250,000 total per charging location, to offset the infrastructure upgrades and equipment costs.
Customers who directly serve and/or benefit highly impacted communities and vulnerable populations may be eligible to receive additional technical advisory services and special Empower Mobility incentives on both EVSE and electric vehicles.
Why take steps to electrify your fleet with PSE?
Save time and money with our turnkey service:

We'll plan and implement any necessary make-ready infrastructure upgrades and manage the permitting and installation of EVSE. We'll also cover networking and ongoing maintenance for 10 years, reducing your operation and maintenance costs.

Minimize risk with PSE's trusted vendors:

We hold our installation and EVSE partners to high standards. Vendors who work with PSE commit to quickly respond to downtime issues and guarantee at least 97% uptime for chargers.

Work directly with PSE on load planning:

We incorporate distribution system planning into our analysis of your project so together we can prepare to power your electric fleet and meet future electrification needs in the region.
Incentive structure for EVSE and vehicles

Incentive category
EVSE Ownership option
PSE-owned turnkey service
Customer-owned option
Level2 EVSE + Make-ready*
Up to $10,000/port
Up to $4,000/port
DCFC EVSE + Make-ready*
Up to $125,000/port
Up to $60,000/port
Battery-electric forklift
$2,000/EV
$2,000/EV

*Total maximum incentive of $250,000 per charging location; customer pays make-ready infrastructure upgrade fees above maximum allowance

Empower Mobility incentives

Qualified customers – including community-based organizations, Tribal entities, government agencies and BIPOC-owned small businesses – who directly serve and/or benefit highly impacted communities and vulnerable populations may be eligible to receive additional technical advisory services and enhanced Empower Mobility incentives on both electric vehicle service equipment and electric vehicles.

Empower Mobility incentives

Incentive category
EVSE Ownership option
PSE owned & maintained
Customer owned & maintained
Level 2 EVSE + Make-ready*

Up to $10,000/port
Up to $6,000/port
DCFC EVSE + Make-ready*
Up to $125,000/port
Up to $100,000/port
Light-Duty Vehicle (Class 1 & 2)

$7,500/EV
$7,500/EV
Medium-Duty Vehicle (Class 3 - 6)**

$100,000/EV

$100,000/EV
Heavy-Duty Vehicle (Class 7 & 8)**

$150,000/EV
$150,000/EV

*Total maximum incentive of $250,000 per charging location; customer pays make-ready infrastructure upgrade fees above maximum allowance
**EV incentive for medium & heavy duty up to 50% of incremental cost of equivalent ICE vehicle

Empower Mobility eligibility

PSE is committed to promoting equitable access to electric mobility. To be eligible for Empower Mobility incentives, fleet customers or the EVSE installation site must directly serve and/or benefit named communities. "Named communities" include both highly impacted communities and vulnerable populations.

Highly impacted communities are census tracts designated by the Washington State Department of Health as a 9 or 10 on the Environmental Health Disparities Map or a community located in census tracts that are fully or partially on "Indian country" as defined in 18 U.S.C. Sec. 1151.

Vulnerable populations are communities that experience a disproportionate cumulative risk from environmental burdens due to adverse socioeconomic factors, including disability, cardiovascular disease, low birth weight rates, higher rates of hospitalization, heat islands, arrearage/disconnections, access to digital/internet resources, access to food, access to health care, educational attainment level, estimated energy burden, historical red line influence, home care, housing burden, linguistic isolation, mental health/illness, poverty, race, renter vs owner, seniors with fixed income, transportation expenses and unemployment.

The list of vulnerability factors and resultant mapping may change depending on the settlement of PSE's Clean Energy Implementation Plan.

Contact us

If you have questions about Empower Mobility incentives and eligibility, email evfleet@pse.com and a PSE Fleet Specialist will contact you to discuss options.

PSE-owned turnkey service

1. Request: Fill out this form to request a free consultation.
2. Consult: A PSE Fleet Specialist will contact you to discuss your project and potential incentives.
3. Apply: Submit an application describing your fleet electrification project, preferred ownership model and, if applicable, your potential eligibility for Empower Mobility incentives.
4. Evaluate: We'll assess your project and its electrical load requirements. Applications do not guarantee funding and will be prioritized based on community impact, technical feasibility, geographic location and fleet use case to ensure project diversity and equitable access to incentives.
5. Estimate: If approved, you'll receive an estimate with a rough order of magnitude of the costs for upgrades and installation.
6. Design & install: If you choose to proceed, we'll work with you to create the project site design and final cost proposal. You'll then sign the service agreement, kicking off the installation phase. We'll coordinate an onsite evaluation to develop the final cost estimate, design, upgrades and installation of EVSE.
7. Fund: You'll only receive an invoice if the project exceeds the per-port or per-charging location limit on PSE incentives. Empower Mobility customers receive upfront incentives after submitting appropriate documentation.
8. Train: Customers under the PSE-owned turnkey option will receive training on the charging network management platform, plus best practices and guidance for operating and managing their EVSE.
9. Report: In order to remain compliant with the program, customers agree to share their charging data and respond to PSE surveys about charging preferences annually or when otherwise requested.

Customer-owned option

1. Request: Fill out this form to request a free consultation.
2. Consult: A PSE Fleet Specialist will contact you to discuss your project and potential incentives.
3. Apply: Submit an application describing your fleet electrification project, preferred ownership model and, if applicable, your potential eligibility for Empower Mobility incentives.
4. Evaluate: We'll assess your project and its electrical load requirements. Applications do not guarantee funding and will be prioritized based on community impact, technical feasibility, geographic location and fleet use case to ensure project diversity and equitable access to incentives.
5. Estimate: If approved, you'll receive an estimate with a rough order of magnitude of the costs for upgrades and installation.
6. Design & install: If you choose to proceed, we'll work with you to create the utility-side project site design and final cost proposal. You'll then sign the service agreement, kicking off the installation phase. You'll proceed with purchasing and installing your PSE-approved EVSE.
7. Fund: You'll receive incentives upon submitting invoices for equipment and installation. Empower Mobility customers receive upfront incentives after submitting appropriate documentation.
8. Report: In order to remain compliant with the program, customers agree to share their charging data and respond to PSE surveys about charging preferences annually or when otherwise requested.

Program eligibility and requirements

All customers must:

Be a current non-residential PSE account holder and electric customer. Transmission-only (Schedules 448/449) customers are not eligible for this program.
Procure at least two owned or leased EVs (or one for qualified Empower Mobility customers) for their fleet by the time EVSE at the site is installed and activated.
Agree to operate charging equipment for 10 years.
Participate in surveys annually or as otherwise requested about charging preferences and patterns.
Sign an easement agreement, if required.
Agree to install networked charging equipment. Depending on the network, a separate meter dedicated to the charging equipment may be required.

Approved Empower Mobility recipients may install non-networked charging equipment with a separate meter dedicated to the charging equipment.

Provide parking stalls dedicated to EV charging for the 10-year duration of the service agreement.
Obtain written permission from the property owner if the customer is not the property owner.

How applications are evaluated

PSE evaluated applications in four areas:

Community impact: How and to what magnitude will the project benefit and serve low-income tenants, Tribal communities and/or other named communities?

Geographic diversity: Does the project increase access to electric vehicle charging in areas underserved by EV charging infrastructure? Has PSE already provided funding for EV charging infrastructure in this area?

Use case: Will the project increase EV charging availability at a wider range of fleet types in PSE's service area?

Utilization: What is the likelihood of EV charging being used at the proposed property based on the number of EVs within the fleet and existing EV charging options at the property?

Load management incentives

Up & Go Electric for Fleet customers can be rewarded for charging when it's better for the environment and electrical grid. Eligible participants with PSE-supported EVSE will be automatically enrolled in our EV Load Management Incentive. This is a monthly on-bill credit between $10 and $165 per charger. To receive this credit, all you have to do is program your charger to delay charging until off-peak hours. Off-peak hours are any time outside of 6 a.m. to 11 a.m. and 5 p.m. to 10 p.m.

Incentive structure for off-peak charging

| EVSE type | EVSE Kw capacity | Annual incentive |
| --- | --- | --- |
| Level 2 | 4.00 - 25.00 | $120 |
| Small DCFC | Up to 75.00 | $300 |
| Medium DCFC | 75.01 - 150.00 | $1,000 |
| Large DCFC | 150.01+ | $2,000 |

If the nature of your business prohibits only charging during off-peak hours, that's OK. PSE awards the credit on a prorated basis. You'll receive credit in proportion to the percentage of your charging events that occurred during off-peak hours. For example, if you charge off-peak 80% of the time, you'll receive 80% of the credit.

You can opt out of the EV Load Management Incentive program at any time.

Additional fleet electrification resources