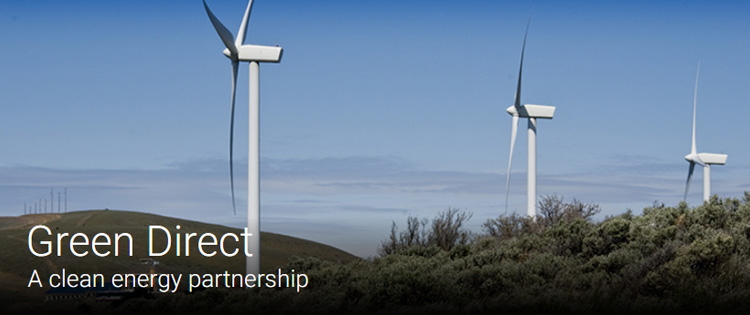 As our region's corporations and municipalities seek to reduce their planet-warming greenhouse gas emissions, they are also seeking to add renewable power to their energy portfolio. To meet this need, PSE created Green Direct, a renewable energy program specifically designed to meet our customer demand.
Green Direct is a ground-breaking program designed to provide PSE corporate and governmental customers the ability to purchase 100 percent of their energy from a dedicated, local, renewable energy resource, while providing them with a stable, cost-efficient solution.
This program furthers PSE's deep decarbonization goals and accelerates the move toward clean electricity by 2045, as called for in Washington's Clean Energy Transformation Act.
Green Direct Projects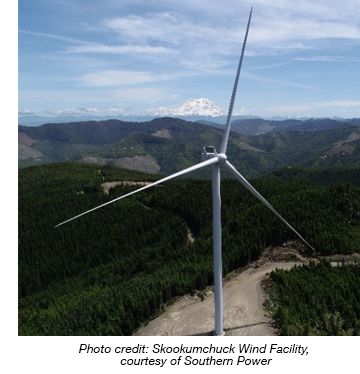 The first project developed for the Green Direct program is the Skookumchuck Wind Facility. Construction began in 2019 and the project went into operation November 2020. It can produce up to 137 megawatts (MW) of wind energy—equivalent to powering 30,000 homes.
The project, owned by Southern Power, is located on Weyerhaeuser timber land, located in Lewis and Thurston counties. It is the first large-scale wind project located in Western Washington; and the first in the state to be located on working forest land.
The second Green Direct project is Lund Hill Solar. Construction began in 2019 and the project went into operation in December 2022. It is the largest solar installation in Washington and is capable of generating approximately 375,000 MWh of solar energy every year. 
Lund Hill Solar was developed by Avangrid Renewables, and is located in Klickitat County outside of Glendale, WA on a mix of land leased from private landowners and the Washington Department of Natural Resources, the state's first solar power land lease.

All 41 total customers in the program, with 18 additional customers added in March 2021, are receiving renewable power generated from a mix of these resources in Washington.