Have questions about PSE Up & Go Electric EV charger programs? We're here to help. Call us at 1-800-562-1482, Monday through Friday 8 a.m. to 5 p.m. or contact us below.
Charging with PSE Up & Go Electric
As we continue to work toward a better energy future, you may notice PSE Up & Go Electric charging stations popping up where you live, work and shop. Here's everything you need to know about our new electric vehicle charging network.
Why charge with us
We're committed to carbon reduction and supporting the growth of electric transportation in our region. One way we're doing that is by making it easier for drivers to charge their EVs at home, at work and in public. Our Up & Go Electric charging stations are:
Fast and reliable featuring the newest chargers and regular maintenance by PSE
Greener because we match every public station charge with 100 percent renewable energy
Easy to use with simple mobile payment options and clear pricing
Worry free including multiple connectors to fit any type of EV
Where to find our public charging stations
We're creating a network of public charging stations for electric vehicle drivers throughout our service area. Here's where you can find the first three:
Open now: The Hub at Lacey, 676 Woodland Square Loop SE in Lacey, Wash.
Open now: Plaza by the Green, 24437 Russell Rd. in Kent, Wash.
Open now: The Community Food Co-op, 315 Westerly Rd. in Bellingham, Wash.
Open now: Downtown Olympia, 201 Simmons St. NW in Olympia, Wash.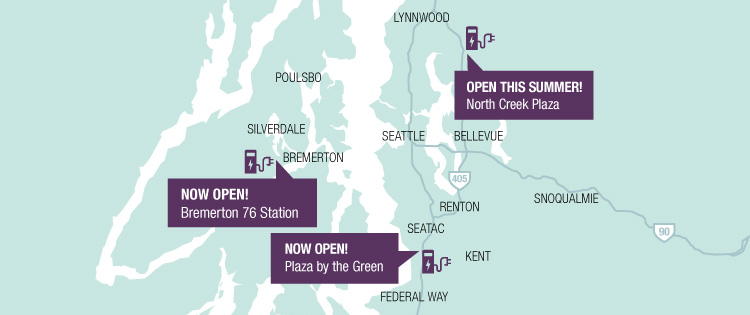 Click to download a map of PSE's EV charging network.
Download the Up & Go Electric app
To use an Up & Go Electric charger, first download the Up & Go Electric app, brought to you by PSE and Greenlots, and create an account. You'll be able to find the nearest charging station, get real-time info on charger status and pricing, pay with the click of a button, and monitor your charging status.


What if I already have the myPSE app?

Even if you have the myPSE app you'll still need the PSE Up & Go Electric app to charge your EV. That's because payment processing for charging is handled by our charging partner Greenlots.

How do I pay using the PSE Up & Go Electric app?

Once you've downloaded the PSE Up & Go Electric app and created an account, click "add credit card" in the payments section. This will allow you to pay as you charge. You can also prepay for charging with the "buy credits" button in the payments section. Please note, payment processing is managed by our charging partner Greenlots.

Can I register an Up & Go Electric account on my computer instead of the app?

If you don't want to register through the app, you can create an account on your computer using our driver portal.

How to use our charging stations

Thanks to the PSE Up & Go Electric app, charging is simple.

Connect your EV to the charge port
Use the app's "charge" screen to scan the charger's QR code – or manually enter the charger's ID number – and click "go"
On the app, select the connector number (if applicable) and click "start charge"
When you're finished charging, click "stop charge" on the app
Unplug the charging cable and reinsert it into the cable holster

Don't want to download the app? Register online using our driver portal and order your own Up & Go Electric RFID card for quick and easy charging.

PSE public charging stations

While PSE Up & Go Electric charging stations can be found at workplaces and multifamily properties throughout our service area for the designated use of their employees and residents, our public charging stations are open to all drivers and feature a mix of DCFC and Level 2 charging ports for fast and reliable charging for multiple vehicles. Up & Go Electric public charging stations are located near major travel routes and shopping destinations in our service area.

While the cost to charge at our workplace and multifamily charging stations is set by the business or property management, PSE controls pricing at its public charging stations.

The cost to charge at an Up & Go Electric public charging station is $0.42/kWh for a DC fast charger and $0.28/kWh for a Level 2 charger. These rates reflect the market average for our region.

Basing our prices on kilowatt hours used – rather than time spent charging – ensures rates are more equitable for all drivers, regardless of their EV model.

Our public stations also charge an idle fee of $0.40/minute for vehicles that remain connected 10 minutes after their charging session has concluded.

DC Fast chargers will fully charge your electric vehicle in about an hour. They can be found at public charging stations.

Level 2 – Public & Workplace

Level 2 chargers add 10-25 miles of range per hour of charging. They can be found at workplace and public charging stations.

What makes PSE public chargers green

PSE Up & Go Electric public charging stations are a greener way to charge when on the go. Energy purchased at these stations is matched with 100 percent renewable energy through our Green Power program. That means not only are drivers reducing their emissions by choosing to drive an electric vehicle, they're also investing in a better energy future every time they charge.

Learn more about our Green Power program.

Customer service + support

For customer service or technical support, please call 1-877-251-7655 or email psesupport@shellrecharge.com.

You may see your PSE Up & Go Electric charging history appear on your PSE bill. This is purely informational and doesn't reflect a new charge. If you have questions about your charging history or bill, please contact our Energy Advisors at 1-800-562-1482.

Privacy policy + terms & conditions5>