Employee Spotlight Joe
BELLEVUE, Wash. (12/18/2018) This week the spotlight shines on Joe Ewing, a consulting engineer with gas systems.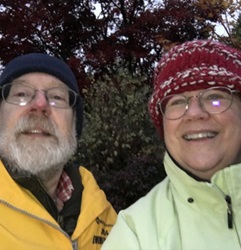 In October 2018, Joe celebrated his 35thanniversary with PSE. Even after 35 years, Joe says every day he learns something new.
Read more about how Joe ended up working at PSE and his family's holiday tradition.
What do you do at PSE and how long have you been here?
I work in Gas Systems Engineering, where we design facilities to improve PSE's gas infrastructure, ranging from gas meter sets, regulator stations, heating and odorizing facilities, to specialized work with CNG and even LNG. We also advise in operations and maintenance activities. I've been doing some form of this work since I started with Washington Natural Gas in 1983.
Why did you want to work here? Or Why do you enjoy working here?
I first just wanted a job, as I had finished my second undergraduate degree, this one in mechanical engineering, and was excited to get back into the work force. I responded to a "help wanted" ad in the Seattle Times. Since then I have had various engineering-related responsibilities, each bringing its own array of engineering challenges. Except for some rough periods, especially occurring just before the merger (with Puget Power), the fit for me has been phenomenal. I am still learning about gas engineering; even after 35 years, every day still brings something new.
What one thing do you need to know really well to do your job?
That's a tough one. Having a good understanding of engineering fundamentals has been indispensable. But having a historical perspective based on years in the company has given me insights that all the engineering theory in the world wouldn't provide.
What are you most proud of working at PSE?
A few years ago I would have pointed at several facilities that bear my stamp. But increasingly I am proud of working with the next generation of engineers. They don't have years of experience, but they are sharp, dedicated, and enthusiastic. It has been rewarding to watch them grow and develop.
What's one of your most memorable moments while working here?
Spending the night in a sleeping bag in the lunch room at Jackson Prairie, between two very busy days culminating in a refurbished gas processing unit called a slug catcher.
What's most challenging about your job?
Staying focused. I have a healthy share of ADD and, while it sometimes helps me focus, it more often causes me to get distracted. I learn a lot while distracted, but what I learn is often not immediately applicable to what I am working on.
What safety tip applies to your daily work?
I try to imagine how the project I am working on will affect safety, both to employees and to the public, throughout its life cycle. While I am grateful for PSE's strong safety culture, there is no substitute for each individual taking responsibility for actively thinking about his/her role in safety. From a gas system safety perspective, PSE has been generally successful. But if we look at our mistakes, it's evident that our biggest enemies are inattention and complacency. I try to keep that in mind.
Of PSE's values, which resonates most with you and why?
All three resonate with me. "Doing what's right" is fundamental to living ethically, not just working for the benefit of our customers and the company. Inclusion (We all have a voice) is appreciating each other, including our different perspectives, which helps us all grow. But the last, "We have each others' backs", is now resonating with me more than ever as I work with and help the next generation of gas engineers.
What's your favorite place to eat?
My wife and I take our kids (now mostly grown) to Chinooks at Fisherman's terminal when we have something big to celebrate. For a simpler meal and one closer to home, whether it's the full family or just my wife and me, we often go to SunLight Café in the Roosevelt district.
What's your favorite vacation spot? Why?
My family and I enjoy visiting Biddeford, Maine, Savannah, Georgia, and New Orleans, Louisiana. All three have been family haunts for generations, and the pull to each remains strong. Also, my wife teaches Japanese in high school, which prompted a family visit to Japan several years ago. We hope to return within the next year or two. Our younger daughter is there now as part of her college experience; we suspect she has visions of being our tour guide.
If you could do any job in the world for one day, what would it be and why?
I'd be an old-style railroad engineer on a steam-powered locomotive (pre-Amtrak), taking a passenger train over Stevens Pass, including through the Cascade tunnel. The perfect mix of engineering, history, and scenery, with a touch of romanticism.
What's the best advice you've ever received?
To marry the woman who is now my wife. That advice was given by my father, when he thought I had sat on the fence long enough.
If you could be any animal, what would you be?
I'm already a panther, a husky, and a redhawk. I don't want to be any more confused than I already am.
What do you like to do outside of work? Any interesting hobbies or community service activities?
Hiking and cross-country skiing. At home I like piano playing and procrastinating. The weekends go by too quickly.
If you could have any super power, what would it be?
Probably time travel, so I could meet notable historical figures. My initial list would include Leonardo da Vinci, Isaac Newton, and Benjamin Franklin. Next would be Martin Luther, Frederick Douglas, Abraham Lincoln, Eleanor Roosevelt, and Mahatma Gandhi. If I could go back far enough, I would aim for a front-row seat at Jesus' "Sermon on the Mount."
What's the best or favorite part about your job?
I enjoy the people I work with. PSE has lots of dedicated employees who also happen to be very interesting.
If you could be on any reality TV show, which would you choose and why?
I have no desire to be on any TV show, real or unreal. I'd rather be a gaffer than in front the camera.
Who would play you in the movie about your life?
Benedict Cumberbatch. I'd want to see him try to add intrigue to my life..
Do you have a pet? If yes, what type?
Our family has three cats. I have always been a dog person, but my daughters have succeeded in broadening my horizons.
Most memorable holiday memory? Or What is your family tradition during the holidays?
Our daughters must get their picture taken together with Santa. There was a time when one or both rolled their eyes over this requirement, but now they gladly humor us, knowing they will enjoy looking at the pictures years from now.