PSE adds new type of hybrid electric vehicles to its fleet
Puget Sound Energy has received 10 cleaner vehicles developed exclusively to work as hybrid crew trucks in the field.
BELLEVUE, Wash. (1/23/2019) Puget Sound Energy will add 10 Ford F-250 XL trucks.
PSE has worked with XL to have the F-250 trucks converted to hybrids; by adding a system that includes an electric motor and advanced lithium-ion battery packs, as well as control software to the pickups.
"We were excited for the opportunity to reduce our carbon footprint through our fleet vehicles because we know our customers value the environment," said Colin Davidson, corporate fleet manager at Puget Sound Energy. "This shows that PSE is willing to invest in the development of cleaner alternatives and technologies."
We save fuel because the system allows the electric motor to slow the vehicle as it comes to a stop, while at the same time charging the hybrid battery. The energy stored in the battery is then used to help move the vehicle when the driver accelerates.
The upgrade is part of a bigger plan that may include adding another 10 trucks later this year. The trucks are in addition to the 60 hybrid vans we added last year. We are in the process of possibly adding another 20 XL hybrid vans and 10 more F-250 trucks.
The conversion of these vehicles is in line with PSE's commitment to reduce its carbon footprint by 50 percent by 2040.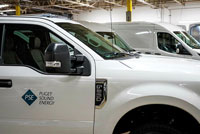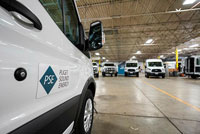 Media Contact:
Andrew Padula, 888-831-7250, psenewsroom@pse.com