Electric forced-air furnace to air-source heat pump conversion rebate
For electric customers
Receive a $1,500 rebate from PSE when you replace your electric forced-air furnace with a qualifying energy-efficient air-source heat pump.

Customer requirements
You must be a current PSE single family residential electric customer. Single-family new construction, multifamily (5 or more attached units) and commercial accounts are not eligible.
Your primary and current space heating system* must be an electric forced-air furnace.
Customers with existing natural gas forced-air furnaces or natural gas boilers are not eligible.
Unsure if electric resistance is your primary heating system? Contact one of our Energy Advisors for a review of your usage to see if you qualify.

Equipment requirements
Both traditional and ductless air source heat pump systems qualify.
Your new traditional heat pump system must be AHRI certified with an HSPF of 8.5 or higher.
Your new ductless heat pump system must be AHRI Certified® as a mini-split heat pump, have a minimum HSPF of 9.0, use inverter technology, and be a minimum of ¾ ton in heating mode.
With a ductless system, at least one Indoor Head must be installed in the main living area of the home; bedroom only installations do not qualify.
Must install to comply with all federal, state and local code requirements.

Rebates requirements
You will need an electronic image of your paid installation invoice and purchase receipt for your installed product(s). They must include: an installation date, brand, model number(s) of all rebated equipment (include the heat pump, air handler and/or coil model number on the invoice), and amount paid.
Your rebate application must be submitted within 30 days of equipment purchase.
You must have an online PSE account in order to apply online.
Rebates only available on new, qualifying equipment.
Equipment that is replaced under warranty will not be eligible for second rebate.
One rebate per qualified single-family residence.
Rebate cannot exceed the pre-tax purchase price of any rebated product.
Equipment installed in manufactured homes must apply on a different rebate application. Please visit pse.com/rebates/manufactured-homes.
To learn more about PSE's Efficiency Boost program that provides increased rebates for income-qualified customers, click here.
In addition to your PSE rebate, you may be eligible for a Federal tax credit on qualifying energy efficient equipment. For updated details and to learn more click here.
Shopping for a new heat pump?
High-efficiency heat pumps are great option for upgrading your heating system even if you do not have electric resistance or electric forced air heating in your home.
PSE works with manufacturers, distributors, and contractors to provide discounts on high efficiency heat pumps.

Tip: Speak with your contractor regarding how this discount might apply to your HVAC project.
View qualifying models for possible pass-through discounts from your contractor.
Air-source heat pump facts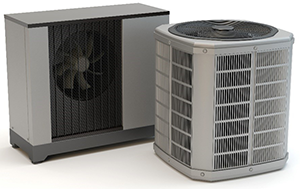 An air-source heat pump is a high-efficiency heating and cooling system that can deliver between one-and-a-half and three times more heat energy to a home than the electrical energy it uses.
A less efficient panel of electric coils kicks in to provide additional indoor heating when outdoor temperatures fall below 40 degrees Fahrenheit, so it's generally not a preferred system for regions with sub-freezing winter temperatures.

Tip: The installation of a heat pump or air conditioner can sometimes cause a fluctuation in the power supply when your equipment starts. This may result in a visible flicker of the lighting in your home or your neighbors' homes.
To ensure that your heat pump installation does not have a negative effect on power quality, it's important to discuss this issue with your contractor. For additional assistance, call a PSE Customer Construction Services specialist at 1-888-321-7779.

Have questions about PSE's green options, including energy efficiency tips and rebates, contractor referrals, electric cars and renewable energy options? We're here to help.
Call us at 1-800-562-1482, Monday through Friday 8 a.m. to 5 p.m. or contact us below.

Request a PSE Recommended Energy Professional (REP) to complete your energy efficient improvement upgrade.