Integrated space and water heat rebate
For natural gas customers
Receive an $800 rebate from PSE when you either purchase and install or upgrade to a qualifying integrated space- and water-heating system for your home.
Customer requirements
You must be a current PSE residential natural gas customer

Equipment requirements
Qualifying integrated space- and water-heating systems must include either:

A single-source ENERGY STAR® qualified natural gas tankless water heater with an Energy Factor (EF) rating of 0.91 or higher.
A single-source ENERGY STAR qualified natural gas boiler with an AFUE rating of 95 percent or higher.

Either a hydronic/radiant system or a combination of forced-air and hydronic/radiant systems may qualify for this rebate.
Your integrated space and water heating system must be your primary heating source AND provide direct domestic hot water to your home.
This rebate is only available on new, qualifying equipment
Rebates requirements
Your rebate application must be submitted within 30 days of equipment installation
You will need an electronic image of your paid installation invoice or purchase receipt for your installed product(s).
You must have an online PSE account to apply online

Have questions about PSE's green options, including energy efficiency tips and rebates, contractor referrals, electric cars and renewable energy options? We're here to help.
Call us at 1-800-562-1482, Monday through Friday 8 a.m. to 5 p.m. or contact us below.

Request a PSE Recommended Energy Professional (REP) to complete your energy efficient home improvement upgrade.
Integrated space- and water-heating system facts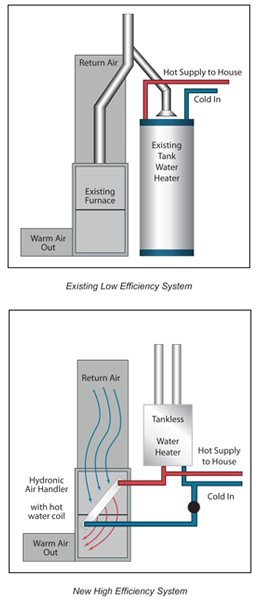 An integrated space- and water-heating system is an ideal heating system if your home is well-insulated, air-sealed and does not have an especially high space-heating load. With a single appliance both space- and water-heating your home—work usually performed by two separate appliances—systems such as this can have an efficiency rating of over 90 percent for both applications.