Partner with PSE to host an energy-related project, like solar arrays or storage batteries, in your community, and demonstrate your commitment to sustainability and the development of more local renewable energy resources.
PSE has programs either currently in operation or in development that will allow customers the opportunity to be part of the clean energy future.
PSE is soliciting general interest and site details from property/landowners and other entities interested in hosting a solar energy or battery storage project on your property.
We want to partner with you!
Tell us more about your potential project.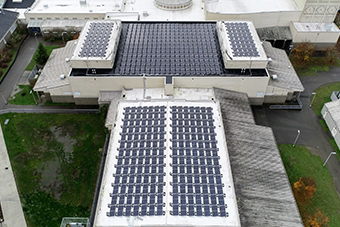 Why host an energy project?
Help the environment.

Demonstrate your commitment to sustainability and help meet local and regional carbon reduction goals.

Benefit your community.

The projects benefit everyone by flowing clean energy from a solar array or storage battery, onto the grid thereby replacing a portion of conventional electricity in PSE's power supply.

Expand access to clean energy.

Locally sited projects, such as solar arrays and batteries, expand access to renewable energy options including income-eligible customers that traditionally have not benefitted from affordable clean energy.

No upfront investment or maintenance required.

PSE installs, owns, and maintains the energy projects. You receive lease compensation for use of your roof or ground space.
Potential project sites must be properties with space for a large rooftop or ground-mount project:

Applicants submitting the form should have controlling interest in the subject property or have authority to act for the owner.
Subject property shall be free of existing option agreements that would otherwise preclude site development by another party.

Ideal property parameters

Size and space:

For Solar: Property options include rooftop or ground level locations. Ideally more than 20,000 square feet.
For Battery: Property should have enough space for a shipping container and transformer with a fence.

Interconnection:

PSE will assist property owners with connecting to PSE's grid infrastructure.
Grid connection must take place on the PSE side of the property's meter.
Grid connection cannot take place within the property's electrical system.
The ideal location should be within 300 feet of PSE's distribution system infrastructure (utility transformer, pole, vault, etc.) that provides three-phase electricity.

Maintenance access:

PSE will need to maintain the project and will require 24/7/365 access to meters and other equipment, especially during a power outage.

Solar access (specific for potential solar projects):

Southern exposure that is unshaded for most daylight hours throughout the year is ideal. The property needs to be free of walls, trees, buildings, poles and other obstructions, as well as of any potential future obstructions, including tree growth and planned neighboring development.

Structural integrity (specific for potential solar projects):

An ideal rooftop property will have a minimum of 25 years of useable life remaining, with the structural integrity to support the weight of solar panels. PSE can help you determine this during the early evaluation process.

Submit your application for review.
If selected, PSE will partner with you to design, install and launch an energy-related project, like solar or batteries, on your property.
PSE handles all the funding and logistics for the development, installation and ongoing maintenance of the energy project.
You'll receive compensation in the form of a lease payment for the use of your property.
PSE will provide access to the data on the energy project for educational purposes.

Have questions about hosting a project? We are here to help.