Underground electric cable replacement program
Puget Sound Energy electric program
2021 project updates
In 2021, we expect to replace approximately 45 miles of aging underground electric cable across our service area.
2020 project updates
In 2020, we replaced about 52 miles of electric cable.
Contact us
We welcome your questions and comments. Please contact:
Mary Tucci
Cable Remediation
Potelco, Inc.
(253) 293-0953
Mary.tucci@pse.com
Project overview
In an ongoing effort to deliver safe and reliable energy to our electric customers, Puget Sound Energy (PSE) works year-round replacing aging underground electric cables across our service area. The Cable Remediation Program (CRP), was initiated in response to increasing numbers of underground cable failures in residential areas, causing outages for our customers. Our program proactively monitors the performance of our underground cables approaching the end of their useful life, typically 20 years, and replaces them, resulting in fewer power outages for the customers these cables serve.
Since the program's inception in 1990, we've seen a significant reduction in power outages as a result of underground cable failure. Since July of 2015, outages due to cable failures have decreased 50% annually.
CRP projects are determined each year based on cable failure history data and current cable conditions. PSE's electric service partner, Potelco, Inc., is responsible for the project management, engineering, construction and quality control of each cable project installation.
Projects in your area
For more information about specific cable replacement projects, please visit Potelco's CRP interactive map potelcoelectricalupgrades.com.
What you can expect during construction: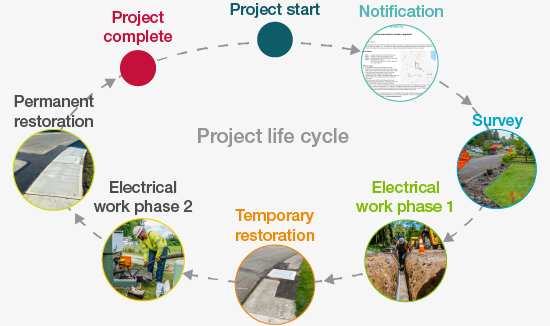 Project Lifecycle (PDF)
Before construction:

If a cable replacement project is planned for your neighborhood, nearby customers will be provided advanced notice of the work via a letter or postcard.
To prepare for this work, crews will be in neighborhoods surveying the project area and marking underground utilities with brightly colored paint or flags.
If your property is directly affected by a CRP project, representatives from Potelco will provide advanced notice about potential property impacts. Examples of property impacts may include blocked driveway access, accessing a utility easement on your property or possible landscaping modifications. If you're not at home when Potelco representatives stop by, they will leave a notice on your door with more information, including a point of contact.

During construction:

Construction occurs in multiple phases.

Phase 1 of the electric work requires installing protective casing to house the new underground cable.

Work entails either digging a trench or using a boring machine to lay the protective casing, called conduit, under the surface of the roadway. Because the boring method is generally less impactful to the sidewalk, roadway and/or nearby vegetation, we use the boring method whenever possible.
Signs, traffic cones and/or traffic control flaggers will guide vehicles and pedestrians safely through the work zone. We'll work to maintain access to driveways whenever possible. If access is temporarily blocked, we'll coordinate with property owners as needed.
There will likely be noise from trucks and heavy machinery during work hours.
Some curbside parking may be impacted in the work area. If so, "no parking" signs will be placed in the work area prior to work beginning.
We do our best to minimize impacts to surrounding vegetation. If vegetation is disturbed on your property, we will coordinate with you to replant vegetation after project construction.
Our work is to replace the main underground cable serving your neighborhood, typically not the individual services to homes or businesses. If a line to a home or business is in need of replacement, Potelco crews will provide advanced notice to customers of the work occurring on their property.

Temporary road and/or sidewalk restoration: As we progress in phase 1 of work, you may notice temporary patches on the road and/or sidewalk. These temporary patches will remain until a crew from our service partner, AA Asphalting, Inc., completes the final road and/or sidewalk restoration after the second phase of work is complete.
Phase 2 of the electric work entails installing the new electric cable in the protective casing and connecting customers to the new equipment. There is typically a gap of one to three weeks between the completion of phase 1 and the start of phase 2.

New cable is pulled through the new protective casing at various access points. You'll notice large trucks carrying the new cable along the project route.
To safely connect customers to the new equipment, some customers will experience a temporary planned power outage as part of this work. All affected customers will be notified of planned power outage details in advance. Outages are generally up to eight hours in duration.

After construction:

Final road and/or sidewalk restoration is completed by a crew from AA Asphalting, Inc. The final restoration schedule is dependent upon weather, permitting and crew availability. Typically, permanent restoration occurs in spring and summer, when weather is warmer and drier.