Region-wide outages
Region-wide outages are typically caused by significant weather events. In the Pacific Northwest, it's most common for region-wide outage events to be caused by fall and winter wind and snow storms, but other causes could be earthquakes, flooding, wildfires or other natural disasters. Outages may impact several thousand to several hundred thousand customers.

Beginning of the outage event
Regional storm bases and our Emergency Coordination Center open to support crew and resource coordination, response strategy and internal and external communication.
---

Assessing damage
As soon as conditions allow and it's safe to begin field activities, our damage assessors drive to reported outage locations across our service area to:
Identify potential safety hazards (e.g., downed power lines)
Gain visibility of the damage and assess severity
Report back to the regional storm base with details on the types of crew and equipment needed to restore power
Damage assessment is also a critical step to help us develop estimated restoration times for customers. In a region-wide outage event, damage assessment can take multiple days to fully complete.
---

Storm response plan established
Information from the damage assessors is used by the storm bases and Emergency Coordination Center to determine resources needed, outage restoration prioritization and other response strategies.
---

Outage restoration prioritization
First, repair crews focus on restoring power to essential services such as hospitals, water/waste water systems, and transportation. Priority power restoration also goes to high-voltage transmission lines that provide power to substations serving large numbers of customers in a broad geographic area.
Next, crews focus on repairing damage to distribution and service lines – the lines that directly serve homes and businesses.
Outage restoration prioritization is constantly evolving as we continue to gain knowledge of the situation and respond to emerging issues.
---

Restoration efforts continue 24/7
Our crews and outage response personnel work around the clock until all customers have their power restored.
---
How does PSE estimate when my power will be restored?
Each region-wide outage event is unique, and estimated times of restoration (ETRs) are developed based on the following factors: number of predicted outage locations, damage severity, resource allocations, active weather and access challenges. As our field teams gain boots-on-the-ground visibility, we add and update ETRs on the outage map. At times, more system damage can occur due to ongoing active weather, and ETRs may need to be updated. There are three general stages of ETRs:
ETR is To Be Determined (TBD): During a region-wide outage event, we don't add ETRs to the outage map until damage assessment is well underway. The time required to establish ETRs varies based on field conditions and the severity of the event. In large outage events, it can take 24–48 hours to establish regional ETRs.


Regional ETR: The date/time we expect most customers in a given region to have their power restored. Many customers will be restored sooner than the regional ETR; some customers may have their power restored after. While regional ETRs are not specific to individual outages, they are general timeframes for restoration that help our customers plan. We strive to share regional ETRs within the first 24–48 hours of a large-scale outage event.


Outage-specific ETR: Outage-specific ETRs – provided by our field personnel – are established when we have adequate field visibility and a crew assigned to restore your power. Sometimes, outage-specific ETRs are updated based on additional information gathered during repairs.
We understand ETR information is important so our customers can plan. Please know we work to provide the most accurate information as quickly as possible, and we thank you for your patience as we move through the process.
Local outages
Local outages are day-to-day outages that occur outside of a region-wide storm or emergency event. They may be the result of a tree coming into contact with a power line, failing electrical equipment, or a car hitting a power pole.

Initial ETR set
After a customer reports an outage, PSE's System Operations team provides an initial estimated time of restoration (ETR), an estimate of when power may be restored, based on historic outage data.
---

Restoration through Distribution Automation
In many locations across PSE's service area, power can be restored through Distribution Automation (DA) – often referred to as a "self-healing grid." If an outage occurs on a DA-enabled distribution line, we can automatically isolate the source of the outage and quickly restore power to all customers who aren't directly served by the damaged section of power line. This means we can reduce the number of customers affected by an outage and restore power more quickly.
---

Assessing damage
PSE's Electric First Response team arrives at the outage location to assess field conditions and make the scene electrically safe. First responders may restore power to some or all remaining customers, depending on the location and severity of the damage.
---

Crew assigned
If our first responders identify the need for additional repairs, an electric crew from our service partner Potelco, Inc. is assigned to make the repairs. They will replace a pole, re-string electrical wire, or replace damaged transformers.
---

ETR updates
Estimated time of restoration (ETR) information is updated as more information becomes available, based on field conditions and damage severity.
---
How does PSE estimate when my power will be restored?
When an outage occurs on a typical "blue sky" day, an estimated time of restoration (ETR), an estimate of when power may be restored, is provided automatically based on historic outage data.
As our field teams assess damage in the field, we update the ETR based on field conditions and damage severity. An outage that requires us to remove a tree branch from the line may take 30 minutes to restore, while an outage that requires a pole to be replaced may take 4-6 hours to restore once the repair crew is on-site. The ETR you see on the outage map is our best estimate for your specific outage at the time, and we'll provide ETR updates as needed until power is restored.
We understand ETR information is important so our customers can plan. Please know we work to provide the most accurate information as quickly as possible, and we thank you for your patience as we move through the process.
Storm restoration FAQ
Why does my neighbor have power but I don't?
During an outage, one part of a neighborhood may have its lights on while another remains without power. Because our electric system works in sections or circuits, one circuit may have power while another may not.
Additionally, PSE crews can re-route power around damaged areas on a circuit, thereby isolating the section that requires repairs. In this instance, some customers served by the circuit may have power while others may not.
You might also have damage to your service line – the wire that runs from your home to the neighborhood distribution circuit.
I don't see any crews in my area. Where are they?
Crews are most likely working on repairs at another nearby site. If there's extensive damage, there may be multiple areas on the electric system where equipment needs to be repaired or replaced before power in your area can be restored.
Why did a crew come to my neighborhood and leave without restoring power?
You may see field personnel in your neighborhood preparing the site for our electric crews to complete the restoration work. Before making repairs, damage assessor teams find the source of the damage and identify the equipment needed to make repairs. Additionally, tree crews may need to clear trees or vegetation out of the way so our electric crews can access repair locations. The last step is for our electric crews to complete repairs and restore power.
What should I do if I see a power line on the ground?
Assume all downed utility wires are energized and stay as far away as you can. If you see a downed wire, call 911 or PSE at 1-888-225-5773. Leave everything to qualified electrical utility professionals and emergency personnel.
Do not drive over downed power lines. They can get entangled with your vehicle and cause further damage. If a power line falls on your car while you're driving, stay in your car! Do not attempt to exit your car until the lines have been confirmed to be de-energized by a qualified electrical utility professional.
How do I stay safe during a power outage?
Do not use a charcoal or gas grill to cook indoors. Never use a natural gas range for heating, or charcoal as an indoor heating source. This can cause a buildup of poisonous carbon monoxide gas.
If you choose to use a portable home generator, read the manufacturer's instructions for the safe operation of the generator. Do not operate generators indoors or in enclosed spaces to avoid the build-up of carbon monoxide.
If you're using portable heaters, keep them away from furniture, draperies and other flammable materials.
Always use flashlights instead of candles.
How can I keep the food in my fridge and freezer cold during a power outage?
Keep freezer and refrigerator doors closed; open them only when necessary. Food will stay frozen for 36 - 48 hours in a fully loaded freezer if you keep the door closed. A half-full freezer will generally keep food frozen for 24 hours.
Visit the USDA's website and read about Keeping Food Safe During An Emergency.
This video explains how we go about restoring power outages.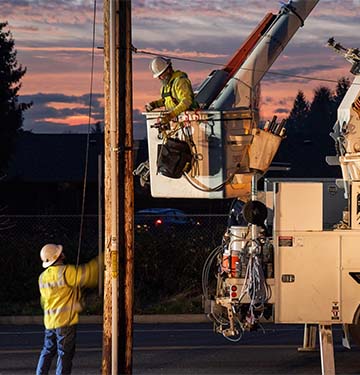 Outage restoration in Sumner, Wash.