During high-risk weather conditions, some utilities proactively turn off selected power lines to reduce the risk of a wildfire. This is called a Public Safety Power Shutoff (PSPS). PSE is currently developing PSPS procedures as part of our Wildfire Mitigation and Response Plan. PSE does not anticipate using PSPS during wildfire season in 2023.
PSPS planning
PSE would use PSPS as a tool of last resort in specific locations and under certain thresholds to reduce the risk of a wildfire starting. We are currently developing risk models to determine the areas in our service territory with the highest risk for wildfire where PSPS may be used in the future. We are also evaluating thresholds for a variety of factors, such as temperature, wind, humidity and dryness of fuel sources.
PSE will implement processes and tools to communicate important information to impacted customers, emergency officials and communities before, during and after a PSPS.
Emergency response
PSPS is different than turning off power in response to an active fire. Currently, PSE may turn off power in response to emergencies and at the request of local emergency officials to keep first responders, our personnel, and the communities we serve safe. By contrast, PSE would initiate a PSPS before an emergency to help prevent a wildfire.
Community engagement
We understand that losing power can create inconvenience and hardship for customers, and we are committed to keeping our customers and impacted communities informed and engaged as we develop our PSPS plan.
In 2022, we reached out to communities in high wildfire risk areas and gathered their feedback about the anticipated impacts of implementing PSPS in the future.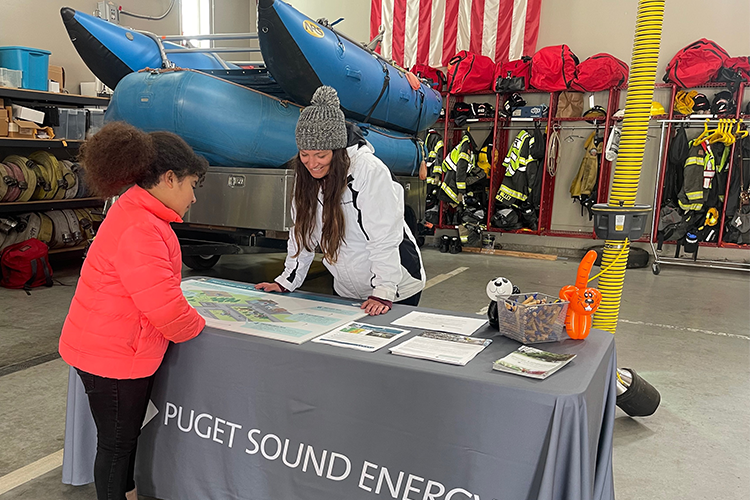 Past wildfire community meetings
June 8 community meeting for Ronald, Roslyn and west Cle Elum area
July 20 community meeting for Greenwater area
October 5 community meeting for Cle Elum area
2022 community meetings
Thank you to everyone who participated in our community meetings on wildfire preparedness! You can share your feedback using the online comment form below, or by emailing wildfire.response@pse.com.