Bill payment and weatherization
Assistance for income-eligible customers
PSE HELP (Home Energy Lifeline Program)
This program provides qualified customers with additional bill-payment assistance beyond the Washington state LIHEAP program.
You can begin your application by clicking the button below.
By clicking the above button, you will leave PSE.com and be redirected to an external site if you are currently logged in. Please review the privacy policy of that site, as it may differ from PSE's.
PSE Weatherization Assistance Program
PSE's weatherization program helps protect your home and its interior from external elements including the cold climate. This income-based program provides free upgrades for single family homes, manufactured homes or eligible apartment buildings. Upgrades include: Insulation, roof repairs, duct sealing and much more.
How to qualify for HELP and Weatherization Assistance
Get started or contact your local agency
Make an appointment
Your local agency will work on your qualification and determine energy bill award and home upgrade eligibility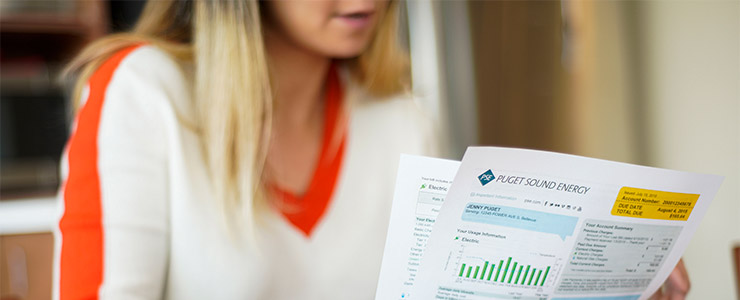 About our programs
Puget Sound Energy offers two programs: PSE HELP (Home Energy Lifeline Program) and Weatherization Assistance.
PSE HELP provides funds you can use to pay your energy bills.
Weatherization Assistance Program can provide you with free home upgrades and repairs that will keep your bills low and your home healthy all-year-long.
Eligibility for both programs is based on your income and the number of people that live in your home.
LIHEAP program
The federal Low-Income Home Energy Assistance Program (LIHEAP) provides financial assistance to eligible low-income households to help pay their winter heating bills.
READ MORE
Salvation Army Warm Home Fund
Help those in need with short-term bill payment assistance to PSE customers facing financial difficulties. Administered by The Salvation Army, the fund includes voluntary contributions from PSE's customers, employees and investors. To donate to the Warm Home Fund, include a little extra in your next PSE bill payment; just specify the amount on your online payment page or payment stub.
DONATE NOW
You may qualify for PSE HELP and LIHEAP programs if your net monthly income does not exceed the limits listed in the table below:

Use these numbers as a guide only. Contact your local agency to begin the application process or get help with questions.

TIP⁚ If you do not qualify for HELP at this time, ask your agency about Weatherization.

Number of Persons in Household

PSE HELP
Maximum Monthly Net Income Limit*
Valid 10/1/19—9/30/20

Federal LIHEAP
Qualifying Monthly Net Income Limit
Valid 10/1/19—9/30/20

PSE Weatherization Assistance
Qualifying Monthly Adjusted Gross Income Limit

1

$1,561

$1,301

$2,386

2

$2,114

$1,762

$3,210

3

$2,666

$2,222

$3,854

4

$3,219

$2,682

$4,588

5

$3,771

$3,143

$5,323

6

$4,324

$3,603

$6,057

7

$4,876

$4,064

$6,194

8

$5,429

$4,524

$6,332

9

$5,981

$4,984

$6,470

10

$6,534

$5,445

$6,607

* After taxes and other authorized deductions. Other conditions apply. If your situation is different, please call.

Find the agency in your County and contact them to qualify for HELP or Weatherization.

Agency name

Phone

Services

Island County

360-679-6577
1-800-317-5427

HELP
Weatherization

King County

Multi-Service Center (for South King)

253-517-2263

HELP

Hopelink (for North and East King) hopelink.org/energy

425-658-2592

HELP

The Byrd Barr Place (Seattle residents)
byrdbarrplace.org

206-486-6828

HELP

Seattle Office of Housing (Seattle residents)
seattle.gov/housing

206-684-0244

Weatherization

206-214-1240

Weatherization

Kitsap County

360-479-1507
360-473-2045

HELP
Weatherization

Kittitas County

509-925-1448

HELP
Weatherization

Lewis County

Community Action Council of Lewis, Mason and Thurston counties

360-736-1800 ext. 4100

HELP

 

360-438-1100 ext. 2100

Weatherization

Pierce County

1-855-798-4328

HELP

 

253-798-4400 ext. 3

Weatherization

253-572-5557
253-593-2336

HELP
Weatherization

Skagit County

Community Action of Skagit County

360-428-1011

HELP

Housing Authority of Skagit County

360-757-6509

Weatherization

Snohomish County

425-388-3880
425-388-7205

HELP
Weatherization

Thurston County

Community Action Council of Lewis, Mason and Thurston counties

360-438-1100 ext. 1144
1-800-878-5235

HELP

360-438-1100 ext. 2100

Weatherization

Whatcom County

360-255-2192
1-888-586-7293

HELP
Weatherization