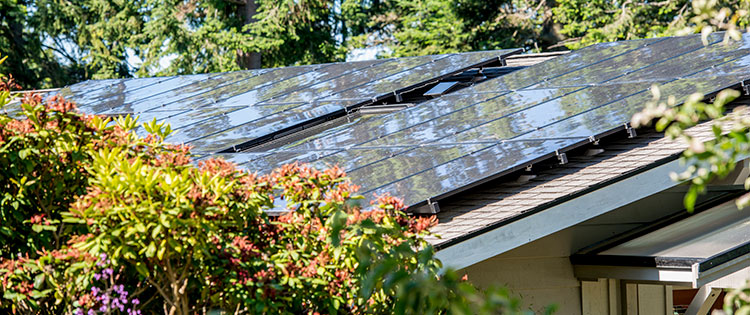 Generating your own power
By producing your own renewable energy you can lower your electric costs and reduce your carbon footprint. Learn more at the links below: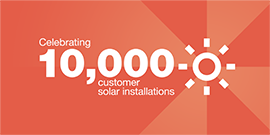 Check out the video about this milestone below.
Interested customers
Net Metering and other incentives
Net Metering helps you offset the cost of the electricity you buy with energy you generate at home. Your power can be generated with solar, wind, biogas and other eligible renewable resources. State and Federal incentives may also be available to you.

Have a question or need help with the Customer Connected Solar program?
We're here to help.
 

Through Net Metering, PSE keeps track of the energy you use and the amount of excess power your system generates. The energy you send back to the grid is credited against your usage so you only pay for the net amount of energy that PSE provides, plus your basic monthly charge.

Benefits of Net Metering:

Reduces your electricity bills.
Reduces your carbon footprint
Allows you to use your own clean energy source, without giving up the reliability of the PSE grid.

Federal Incentives

Explore the Solar Energy Investment Tax Credit, available for residential and commercial projects:

Residential Renewable Energy Tax Credit

Business Energy Investment Tax Credit (ITC)

The WA State Production Incentive Program is fully subscribed and is no longer accepting new applications from PSE customers to enroll in the program.

For more information, please visit the WSU Energy Program.
For further background about the funding and closure of this program, please visit Solar Washington.

Steps to apply for Net Metering

If you're thinking of generating your own electricity to meet a portion or all of your electricity needs, we can help you through the Net Metering process. A net meter is capable of measuring both the electricity supplied by the utility as well as any excess supplied by the customer's system back to the grid and is designed for systems up to 100 kW of generating capacity. For systems that exceed this generation level, please view our Distributed Renewables program page for more information or contact one of our Energy Advisors at 1-800-562-1482.

To get started:

Select an experienced installer. Through PSE Recommended Energy Professionals (REPs) you can find a dependable and qualified solar installer. The installer will help you determine if your home/business is a good candidate for solar. We recommend you get multiple bids on your project and check their references.

Interconnect with PSE. Once you've selected an installer, they will help lead you through the process of connecting your solar array to the PSE power grid. The process is as follows:

Submit an Interconnection application using our online portal
PSE will review your project submission. If accepted, PSE will issue you an Approval to Construct
Procced with solar installation, following local codes and permitting requirements
After your electrical permit has been finalized, submit your Notice of Completion to PSE
PSE will then order meters
PSE will issue an approval to energize and initiate net metering

Resources

PSE Rate Schedules
150 (Net Metering)
152 (Interconnection)
Existing customers
The net metering policy for Washington state is designed to let customer-generators offset their electricity consumption with solar energy production on an annual basis. If you use more energy than you produce during a given bill period, then you pay PSE for your net purchase, plus the basic service charge.
If you produce more energy than you use within a given bill period, your net excess generation is added to your net metering reserve. You can use your net metering reserve to apply to energy charges in another bill period. Per state law, net metering credits expire on March 31 of each year.

Washington State Production Incentive Program

The Washington State Renewable Energy System Incentive Program is a production-based financial incentive for customers with solar, wind, and bio-digester generating systems. PSE voluntarily administers this state incentive to qualified customers. In order for a customer-generator to participate they must:

Be a PSE customer with a valid interconnection agreement with the PSE for the operation of their grid-connected renewable energy system.
Have a system that includes production metering capable of measuring the energy output of the renewable energy system.
Be certified (as named on the PSE account) by the Washington State Program Administrator as eligible for annual incentive payments.

The WA State Production Incentive Program is fully subscribed and is no longer accepting new applications from PSE customers to enroll in the program.

PSE will continue to make annual incentive payments to our customer participants with systems certified by the WSU Energy Program. This includes

Certified participants in the WA State RECRIP and RESIP programs.
"Move In" participants who start PSE electric service where there is a previously-certified renewable energy system and who obtain certification of eligibility from the WSU Energy Program.

PSE reads production meters annually on June 30th, and each fall reports the kilowatt-hours generated by participants' renewable energy systems. Once directed by the WSU Energy Program (the State Program Administrator), PSE makes annual incentive payments to eligible customers. Individual participant eligibility for a given rate, term, payment limit, and incentive payment amounts are determined by the Washington State Program Administrator.

The following are guidelines for informational purposes only:

For systems with valid state certifications beginning prior to September 30, 2017, including:
Incentive rate per kWh is:
Solar modules and inverter both manufactured in Washington
50.4¢
Solar modules manufactured in Washington
33.6¢
Solar or wind with an inverter manufactured in Washington
16.8¢
Any other PV system or anaerobic digester
14.0¢
Wind turbine
11.2¢
Up to $5000 per year for energy produced through June 30, 2020.

Systems with valid eligibility
beginning with state certification:
Base rate for systems
up to 12 kW
Base rate for system
larger than 12 kW
Made in WA bonus
October 1, 2017 - June 30, 2018
$.16
$.06
$.05
July 1, 2018 – February 14, 2019
$.14
$.04
$.04
Annual limit per participant
$5000
$25,000
For annual payments on up to 8 years of kilowatt-hours generated.

For more information, please visit the WSU Energy Program's website, or contact the Washington State Energy Program team at solarprogram@energy.wsu.edu | 360-956-2200 or 888-363-7289 (toll-free).

Moved In?

If you just started a new PSE electric account at a solar home net metering with PSE, you will automatically benefit from net metered billing.

If you believe you may be eligible to receive annual payments for the system's remaining term of the State Production Incentive Program for the remaining term, please contact the WSU Energy Program at solarprogram@energy.wsu.edu | 360-956-2200 or 888-363-7289 (toll-free).

Be prepared to provide your full name, service address and account number as they appear on the PSE electric bill for your net metered service.

Resources

Understand your Net Metered billing
Understand your Net Metered billing (with production meter)
WA State Production Incentive Program
May 2019 update
150 (Net Metering)
151 (Renewable Energy Production Incentive Payment Program)
Contractors/installers
Find resources and guidelines for solar contractors and installers. Please remember that all customer generation system applications and schematics must be approved by PSE before a system is installed.