Thermal power
While hydropower makes up the largest share of electricity we provide to our customers, electricity from natural gas-fired and coal-fired power plants also represents a substantial portion of our supply.
Gas-fired power
PSE owns nine natural gas-fired power plants with a combined generating capacity of approximately 1,900 megawatts. The latest addition to the utility's gas-fired fleet is the 270-megawatt Ferndale Generating Station. PSE acquired the Whatcom County facility in late 2012.
In addition to the Ferndale plant, we have gas-fired power-generating facilities in Pierce (Frederickson, with two facilities), Skagit (Fredonia), Cowlitz (Mint Farm) and Klickitat (Goldendale) counties, as well as three other plants (Whitehorn, Encogen and Sumas) in Whatcom County.

Gas-fired power is safe, requires no disposal or storage of dangerous wastes and emits far less carbon dioxide than other power resources that use fossil fuels.
Coal-fired power
The Colstrip Power Project in eastern Montana is the single largest power-generating facility that we own, providing approximately 700 megawatts of generating capacity.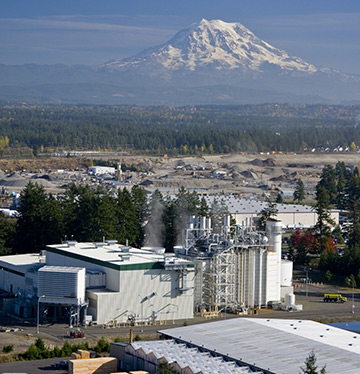 Frederickson Thermal Plant