Employee Spotlight Angela
BELLEVUE, Wash. (2/1/2019) The spotlight shines on Angela, a supervisor in system operations.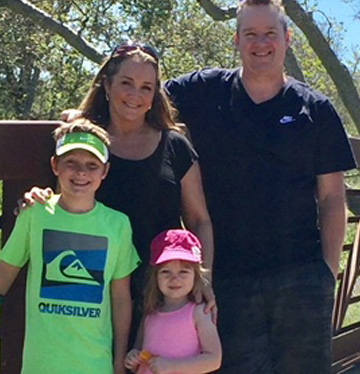 The teamwork during "all hands on deck" storms makes her proud; she says getting the job done well and doing it together is a rewarding one-of-a-kind experience.
Read more about Angela, her perspective on the company and what she enjoys outside of the office.
What do you do at PSE and how long have you been here?
I'm one of the Supervisors in System Operations where my hours rotate ensuring 24/7 coverage on days, nights, weekend and holidays hours. I started with Puget Power back in 1991 in the call center (aka CCC, CAC and Access Center)
Why did you want to work here?
I was going to college (UW), working in retail and playing a lot of beach volley ball. A team-mate who worked for Puget Power encouraged me for a year to apply as it was a "great company to work for and you'll probably really like it". When added "college tuition reimbursement plan for employees": Motivated! I fortunately was hired as a CSRII in the Call Center.
What one thing do you need to know really well to do your job?
Well I if I have to narrow it to just one thing it would be knowing the right contacts, action plan, and protocols for any situation, question, emergency that occurs on our system or facilities, or to the public or our staff. While many situations have a designated process, some unique issues occur in the middle of the night and being knowledgeable in many areas can help guide the right action to take.
What are you most proud of working at PSE?
I love the team work experience working together in the "All Hands on Deck" storms. There are many folks that I don't often get to see for months-or years- and some who I get to meet for the first time when we open the ECC. Whether we are in a storm or normal day to day work, it's never been a one man / woman show to accomplish taking care of our emergencies, customers and our systems. Getting it done well and doing it together is very rewarding.


What's one of your most memorable moments while working here?
Of course the Hanukah Even Storm of 2006! I think I worked for 3 weeks straight. I was a Supervisor in the call center and I recall taking back to back escalated customer calls for 12 hours day. Near the end, many frustrated customers didn't want to hang up without having my direct line to call every day they were out of power. So thankful restorations were completed by Christmas! That first day off, I SLEPT for 12 hours, turned off the phone ringer, and tried to locate my personality again.
What's most challenging about your job?
When the weather service does not predict winds for our service area and we get hit hard with large scale outages quickly in the middle of the night, and you have multiple customers and departments calling into the office for answers while you're trying to call out for additional support and you're the only one here. (This fortunately has not happened for some time).
Of PSE's values, which resonates most with you and why?
We have each other's back. Growing up playing a lot of team sports I learned someone can be a good player doing just their job. Or they can be a great player helping the rest of the team be great.
What's your favorite place to eat?
Sushi Village- because I love sushi and if I'm eating here- it means I'm also on vacation skiing in Whistler!
What's your favorite vacation spot? Why?
I enjoy experiencing new cities and countries with different cultures and history and have been able to do some international travel before having family. Since having my own family, our go to has been Cabo San Lucas Mexico. The sun, beach, guacamole and ceviche work for us!
If you could do any job in the world for one day, what would it be and why?
Be Mr. Roarke on Fantasy Island.
What's the best advice you've ever received?
I have to share my top 3:
The Four Agreements (should be required reading for any young adult).
In the early 90's my BF advised me smiley faces go a long way (my emails were too unemotionally direct! ).
Book of Proverbs in the Bible
What do you like to do outside of work? Any interesting hobbies or community service activities?
I used to play a lot of softball before having my kids but with my work schedule and their schedules I enjoy doing Hot Yoga and Wogging (walk/jog) listening to music. I really love watching / coaching my son and daughter play baseball & basketball.
What do you like to do outside of work? Any interesting hobbies or community service activities?
I volunteer at Food Lifeline packing food for people in need and also do volunteer work at my kid's school. I tried hiking Mt Si with my family, got up to the top and back down, arms and legs were nearly falling apart! So, "nope, never again". Hiking is off the bucket list.
If you could have any super power, what would it be?
Tele-transportation
What's the best or favorite part about your job?
I enjoy the work I do and people I work with every day. The shift hours provides me with flexibility to do volunteer work and activities during the weekday.
If you could be on any reality TV show, which would you choose and why?
The Amazing Race. Seeing/discovering places you have never been, doing the challenges with a partner, experiencing the competition challenges (except for the eating parts) and winning money!
Who would play you in the movie about your life?


But if it I can't be a cartoon, probably Leah Remini