Lower-Carbon Fuels
We believe that Renewable Natural Gas (RNG), Synthetic Natural Gas (SNG), hydrogen and renewable biofuels will play a critical role in the clean energy future, which is why we're taking steps to research new technologies, conduct pilots and develop our expertise in this area. As a combined electric and natural gas utility, we're studying the role that lower-carbon fuels can play both on the electric generation side as well as in our supply of piped energy to our current natural gas customers.
Role of Lower-Carbon Fuels in Electricity Generation
We are exploring the use of renewable hydrogen or "green" hydrogen to run combustion turbines that produce electricity at our generation facilities.
In May 2021, we signed a joint development agreement with Mitsubishi Power to develop hydrogen gas turbine facilities as well as explore opportunities for green hydrogen production, storage, transportation, and utility scale battery storage systems.
As a first step, we plan to run pilots using a blend of natural gas and hydrogen on an existing turbine to determine feasibility and impact. When combusted, a natural gas/hydrogen blend emits significantly lower greenhouse gas than natural gas. Pure hydrogen has no greenhouse gas emissions when combusted.
Tenino microgrid is first utility scale, battery-plus-solar microgrid in PSE's service area
Role of Lower-Carbon Fuels in the Piped Energy System
We believe that the pipeline delivery system will play an important role in achieving our region's carbon reduction goals and that the existing infrastructure can be repurposed to deliver low-carbon fuels.
Renewable Natural Gas (RNG)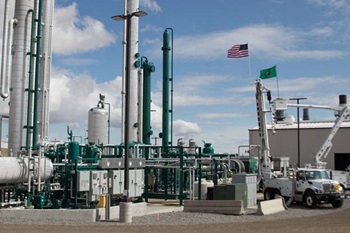 RNG is the gaseous product of the decomposition of organic (generally waste) matter that has been processed to purity standards. It is a lower emission substitute for conventional natural gas.
We began integrating RNG onto our gas system more than 30 years ago from a local wastewater treatment plant and we were the first utility in the region (and one of the first in the country) to partner with a pipeline quality landfill RNG project in 2009.
In 2020, we signed a 20-year agreement with Klickitat PUD to purchase RNG produced from the Roosevelt, Wash., landfill. This agreement provides small volumes of RNG to all customers and allows us to offer a voluntary RNG program  for individual customers that wish to have a greater percentage of their supply come from RNG sources.
Currently, RNG accounts for 0.5% of our annual gas volume and could reach nearly 3.5% of annual gas sales by 2024.
We're continuing to investigate and pursue additional local, regional and national RNG supply opportunities.
Hydrogen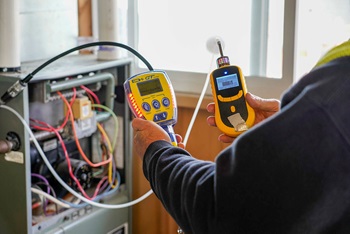 Hydrogen as an alternative fuel source is already in use in different parts of the world, and is scaling at a rapid pace in the United States.
Our teams are looking at ways in which we can "future-proof" the gas delivery system to be able to accept low-carbon hydrogen in the future. Currently, green hydrogen is not commercially available, but analysts are predicting that it will become cost-effective within the next decade as the supply chain matures.
In April 2021, we ran our first hydrogen pilot at our Georgetown Training Facility. As a part of this pilot, our teams tested different levels of hydrogen and natural gas blends on our gas system, testing for leaks, air quality after combustion, gas quality, and impact on the appliances used.
We will continue to research hydrogen, study its impacts on the pipeline delivery system, and understand the operational, safety, and customer use challenges associated with its use, while also collaborating with other industry organizations to share our learnings.
We're a founding member of the Renewable Hydrogen Alliance, a non-profit trade association established to promote and advocate using renewable electricity to produce hydrogen and climate neutral derivative fuels.