Wildfire preparedness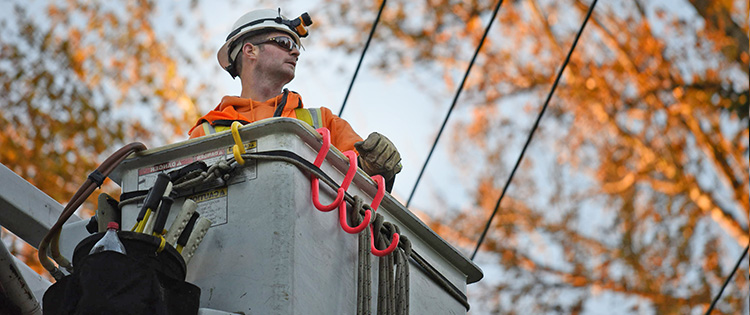 How PSE prepares
Wildfires have emerged as a growing public safety concern for much of the Western United States. We are taking a comprehensive approach to mitigating the evolving risk of wildfires, working to ensure safety while maintaining the reliable delivery of energy.
Many of our wildfire-related actions also help protect our system from other hazards, like high winds and winter storms. Other steps are unique to wildfires.
Our Wildfire Mitigation and Response Plan for 2022 outlines our year-round efforts to prepare for, and help prevent, wildfires in PSE's service area. As a part of our plan, we're inviting communities at a higher risk for wildfires to discuss our mitigation plan and future tools under consideration. This includes the possibility of proactively turning off power during high-risk weather conditions, known as Public Safety Power Shutoffs (PSPS). 
Join us for a community meeting on October 5
Because Cle Elum is within an area of higher wildfire risk, we'd like to provide information on how we're preparing the electric system for wildfires, and obtain input on PSE's potential future use of PSPS in your community. Your input will help us understand customer and community needs during a potential PSPS event.
Date: October 5, 2022
Time: 5:00 p.m. – 7:30 p.m. In-person open house from 5:00 p.m. – 5:30 p.m. Presentation starts at 5:30 p.m. followed by small group discussions.
Location: Putnam Centennial Center (719 E 3rd St, Cle Elum, WA 98922) or online via Zoom.
Register: RSVP for in-person, or register to receive a link for the Zoom meeting here.
The presentation and small group discussions will provide the same opportunities for learning and feedback, whether you attend in-person or online. Please let us know if you're facing barriers to participation and need accommodations to participate fully by October 3.
Past wildfire community meetings
June 8 community meeting for Ronald, Roslyn and west Cle Elum area
July 20 community meeting for Greenwater area
Summary report – coming soon!
Thank you to everyone who participated in our community meetings on wildfire preparedness!
Couldn't make it to a meeting? You can share your feedback using the online comment form below, or by emailing wildfire.response@pse.com.
What is a Public Safety Power Shutoff?
During high-risk weather conditions, PSE may need to proactively turn off power lines to help prevent wildfires. This is called a Public Safety Power Shutoff (PSPS).
PSE understands that losing power can create significant inconvenience and hardship for customers. We would turn off power only in emergencies, and would like to help customers prepare for this situation. We're engaging with communities now to get feedback as we develop plans to use a PSPS in the future.
PSE resources
While we are getting ready for wildfires, customers can do the same with resources from Washington State's Department of Natural Resources.
What customers can do
While we are getting ready for wildfires, customers can do the same with resources from Washington State's Department of Natural Resources.