Geothermal heat pump rebate
This rebate has been discontinued for 2019. If you had a project installed near the end of 2018 and need access the rebate form, they are below.
For electric customers
Receive a $1,500 rebate from PSE when you purchase an ENERGY STAR® qualified geothermal heat pump for your home.
Do I qualify? (2018 installations ONLY)
Customer requirements
You must be a current PSE residential electric customer.
Available to first time geothermal heat pump customers only – customer cannot have an existing geothermal heat pump installed.
You must have an online PSE account to apply online.
You will need an electronic image of your paid installation invoice or purchase receipt for your installed product(s).
Rebate requirements
Only one rebate is available per qualified, metered residential customer.
This rebate is only available on new, qualifying equipment.
This rebate is not available for new construction.
Your rebate application must be submitted within 30 days of equipment installation.

Equipment requirements
You must install an ENERGY STAR qualified geothermal heat pump.
Indirect water heaters installed off geothermal heat pump are NOT eligible for additional rebate incentives.

Have questions about PSE's green options, including energy efficiency tips and rebates, electric cars and other renewable energy options?
We're here to help.
Geothermal heat pump facts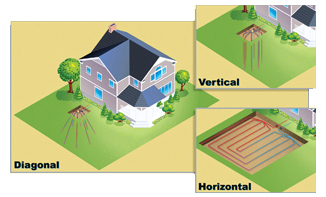 A geothermal heat pump is one of the most energy-efficient heating and cooling systems available, delivering clean conditioning comfort to your home. Since it harnesses the temperature difference between the outdoor soil and indoor air, a geothermal heat pump is especially environmentally friendly and can run as much as three times more efficiently than an air-source heat pump on cold days.