Empolyee Spotlight David
BELLEVUE, Wash. (10/16/2018) This week's spotlight shines on David, a Customer Field Service Technician in Gas First Response.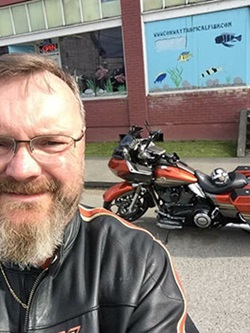 He's been with PSE for the last 14 years and has enjoyed his work here while helping customers.
Read more about David's most memorable moment and what he enjoys doing when he's not at work.
What do you do at PSE and how long have you been here?
Customer Field Service Technician in Gas First Response. I've been with PSE since 2004
Why did you want to work here? Or Why do you enjoy working here?
I was working for a commercial HVAC contractor and met Jesse Woods at a customer's business. While waiting for the fire department he mentioned that PSE was hiring and I figured I'd give it a shot. I like working at PSE because there is no pressure to sell and our customer's safety is our first concern.
What one thing do you need to know really well to do your job?
How to communicate clearly and precisely with customers, co-workers, and management.
What are you most proud of working at PSE?
Receiving a Power Award for my work with the Seattle Fire Department on retraining their first responders on natural gas emergencies after the Greenwood incident and then subsequently working with the Everett Fire Department shortly thereafter.
What's one of your most memorable moments while working here?
Being the first PSE first responder at Greenwood, arriving approximately 45 minutes after the explosion. Seeing an entire city block completely demolished, and the strong smell of natural gas in the ambient air was very surreal and not something that I'll ever forget.
What's most challenging about your job?
Having customers frustrated with PSE and being the person they take it out on when I'm at their home.
What safety tip applies to your daily work?
Using situational awareness to keep my focus on safety.
Of PSE's values, which resonates most with you and why?
We have each other's backs. PSE encourages educational opportunities, promotes appreciation and recognition and believes in giving back to their employees and the communities they serve. 
What's your favorite place to eat?
Anywhere that serves craft beer and chicken wings.
What's your favorite vacation spot? Why?
I've never gone on vacation to the same place twice.But my wife and I are looking forward to our upcoming vacation to the Philippines.
If you could do any job in the world for one day, what would it be and why?
I'd be a stunt man so I could do all the cool things they get to do.
What's the best advice you've ever received?
You should learn something new every day.Whether it's useless trivia or how to accomplish a new task – never stop learning.
If you could be any animal, what would you be?
I wish I could be one of the dogs that I've owned because they were excessively spoiled during the time I had them.
What do you like to do outside of work? Any interesting hobbies or community service activities?
I enjoy packing up my motorcycle and hitting the road. I've been to South Dakota, California, Wyoming, Montana, Oregon and Nevada but hope to make it to Florida for Bike Week one of these years.
If you could have any super power, what would it be?
Time travel so that I could go to all the rock concerts I didn't get to experience when I was younger.
What's the best or favorite part about your job?
Being able to help the customers with their gas equipment issues, or playing "What's that smell" on odor calls.
If you could be on any reality TV show, which would you choose and why?
The Bachelor - but I don't think my wife would approve.Or I'd pick Amazing Race to prove to her that I have the better sense of direction.
Who would play you in the movie about your life?
Seth Rogan.He would take all the boring parts of my life and make them funny.
Do you have a pet? If yes, what type?
We lost our dog Chloe in March and now just have a tank full of fish.My wife has names for most of them but they all look the same to me.