Energy-efficient lighting

Starting February 1, 2020, the following changes will be applied:
T8 LED Retrofit bulbs – up to $2.50
Patio Style LED String Lights – up to $3.00
LED Fixtures – up to $5.00
Save instantly with discounts on LED bulbs and fixtures
When you buy money-saving ENERGY STAR® qualified LED light bulbs and fixtures at your favorite retailers, PSE gives you instant discounts right at checkout. Your new LEDs will lower your energy bills and we're happy to take your old bulbs off your hands.
What you get
PSE instant discounts on ENERGY STAR qualified LED light bulbs and LED fixtures are reflected in the on-shelf prices of items:

LED bulbs
—up to $4 off instantly*

LED fixtures
—up to $5 instantly*
For help choosing the right type of bulb or fixture, visit our Lighting Tips section.
Look for the PSE logo at retail stores to verify that an instant discount is available for your item(s):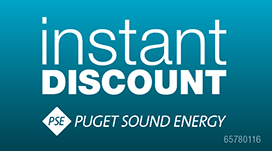 Customer Requirements
All Puget Sound Energy residential electric customers are eligible for this offer.

Find a retailer
PSE instant discounts are available at participating lighting retailers within PSE's electric service area, including but not limited to:
Ace Hardware
Bartell Drugs
Batteries Plus
Costco
Dollar Tree
Fred Meyer
The Home Depot
Goodwill
Lowe's
McLendon Hardware
QFC
Target
True Value
Walmart

 For more help, use our store finder or call an Energy Advisor at 1-800-562-1482.

Have questions about PSE's green options, including energy efficiency tips and rebates, contractor referrals, electric cars and renewable energy options? We're here to help.
Call us at 1-800-562-1482, Monday through Friday 8 a.m. to 5 p.m. or contact us below.

Request a PSE Recommended Energy Professional (REP) to complete your energy efficient home improvement upgrade.
Bulb recycling
If you have old incandescent or CFL bulbs, take advantage of PSE's free bulb recycling program.
To learn more about LED bulbs, check out our LED bulb FAQs.
* PSE instant lighting discounts are tariffed services and are subject to change or termination without prior notice.