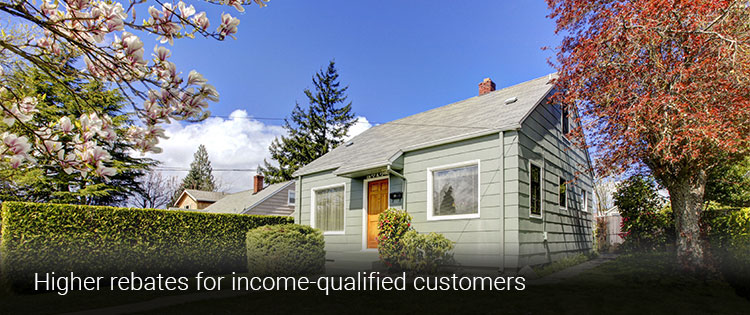 PSE created the Efficiency Boost program to offer higher rebates on energy-efficient upgrades to income-qualified customers. We want to help you work on improving the comfort and efficiency of your home without breaking the bank. These higher rebates can help put greater energy efficiency, and long-term utility bill savings, within reach.
To get started, refer to the income guidelines below for moderate-income customers. If you think you may qualify, or if you have questions, the next step is to contact an Energy Advisor at 1-800-562-1482 to establish eligibility. If you don't qualify for Efficiency Boost, check out our standard residential rebates.
CONTACT US NOW
Efficiency Boost rebates
The increased rebates we offer through Efficiency Boost are compiled in the table below.
Visit the standard residential rebates  page for a full list of customer, equipment and rebate requirements. Restrictions apply.
Program
Upgrade type
What you get
Weatherization
Attic Insulation R-11 or less to R-49
$1.00 per sq. ft.
Floor Insulation R-11 or less to R-30
$1.00 per sq. ft.
Wall Insulation R-0 to R-13
$1.50 per sq. ft.
Prescriptive Duct Sealing and Insulation R-0 to R-11
Up to $800
Duct sealing only
Up to $600
Prescriptive Air Sealing (attic and/or crawl space)
$0.20 per sq. ft
Windows
Windows, Single Pane to U30
$200 per window, up to $2,000
Windows, Double Pane to U30
None
Windows, Single Pane to U22
$200 per window, up to $2,000
Windows, Double Pane to U22
$200 per window, up to $2,000
Water Heat
Hybrid heat pump water heater Tier 3
$200
Gas tankless water heater
$500
Gas storage water heater
$100
Space Heat
ENERGY STAR® or AHRI Certified natural gas boiler (95 percent AFUE)
$1,000
ENERGY STAR® or AHRI Certified natural gas forced-air furnace (95 percent AFUE)
$1,000
Zonal electric resistance to ductless heat pump conversion
$2,400
Electric forced-air furnace to heat pump conversion 
$2,400
Thermostats
Line Voltage Connected Thermostat (PSE-approved models)
$100
Smart thermostat (ENERGY STAR® models)
$150
Appliances
ENERGY STAR® frontload clothes washer
$100