Instant discounts on water-saving products
Save up to $10 on showerheads and faucet aerators
Heating water is the second-highest use of energy in your home. By installing an efficient showerhead or faucet aerator, you'll use less water and save more on your energy bill. Get an instant discount of up to $10 on select WaterSense® products from participating retailers.
What you get
With PSE's water-savings offers and instant discounts, you can receive:

WaterSense showerhead
Free select basic models available at up to $10 off at participating retailers

WaterSense faucet aerator
Up to $2 off at participating retailers
Limit of two (2) discounted showerheads and limit of four (4) discounted aerators per household from participating retailers.
Instant discounts are immediately applied, so there's no need to submit additional paperwork or wait for reimbursement.
At retail stores, look for the PSE logo to verify that an instant discount is available for your item(s):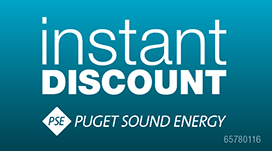 Do I qualify?
Customer requirements
You must be a current PSE residential electric or natural gas customer.
You must use electricity or natural gas from PSE as the primary source of your home's water heating.

Where to purchase
You can also purchase showerheads and aerators with PSE instant discounts from participating retailers, including but not limited to:
Costco
Ace Hardware
McLendon Hardware
Bartell Drugs
Fred Meyer
Walgreens
Walmart
For more help, use our store finder or call an Energy Advisor at 1-800-562-1482.

What is WaterSense 
WaterSense is a partnership program of the U.S. Environmental Protection Agency (EPA) that assists in promoting water conservation. WaterSense labeled products meet a strict guideline of 20 percent greater water efficiency, taking into account their quality and performance.
Puget Sound Energy recommends WaterSense labeled products.

How to install a showerhead
Remove. If you need to use a wrench to remove the old showerhead, use a second wrench to hold the shower arm. Use a piece of cloth to protect the finish.
Seal. Clean off any sealant, old tape or rust on the shower arm threads. Wrap thread tape two to three times around the threads of the shower arm. Press tape into the threads .
Install. Screw the new showerhead onto the shower arm in a clockwise direction and hand-tighten. Use a washer between the two connections.
Test. Turn on the water and check for leaks. If it leaks, carefully tighten until snug. Do not over tighten.

How to install a faucet aerator
Remove. An old aerator from a faucet, cover the old aerator with a towel or rag and remove using a wrench.
Clean. Clean the existing faucet and dry the threaded area thoroughly.
Flush. Run the water for 5-10 seconds to flush out any residue.
Install. Screw on the new aerator clockwise and hand tighten until snug. Do not over-tighten.
Test. Turn on the water and check for leaks. If it leaks, try adding thread.

Have questions about PSE's green options, including energy efficiency tips and rebates, contractor referrals, electric cars and renewable energy options? We're here to help.
Call us at 1-800-562-1482, Monday through Friday 8 a.m. to 5 p.m. or contact us below.

Request a PSE Recommended Energy Professional (REP) to complete your energy efficient improvement upgrade.